Diet-to-Go iPhone App Review: Healthy Habits
Jun 14, 2011
Cost: Free (you can upgrade for $4.99)
Category: Healthcare and Fitness
Healthy Habits is the app to use when you're trying to change your behavior; whether it's breaking a bad habit such as biting your nails or establishing a new, healthy one such as getting more sleep, Healthy Habits helps you track and monitor your progress.
It was in Beta release for awhile with great reviews and within one day of going live it was ranked #1 in iTunes. The developers assert that "changing a habit is not about thinking . . . it is about doing!" So if you are ready to make some positive changes in your life, this app is a fantastic tool. The app has an enormous habit library to choose from that ranges from food, working out, positive thinking and group interaction as well as the option of customizing your own habit change.
Why you need it:
This app is a great way to remind yourself on a daily basis to make smart, healthy choices. It constantly reinforces the idea that we become and stay healthy one choice at a time. The user-friendly interface, positive reminders and sense of accomplishment felt when a goal was met are just wonderful. In a nutshell, Healthy Habits is really easy to use, fun and quite effective. And the badges you earn for your progress is a fun added bonus.
Why you don't:
If you aren't committed to change this app isn't for you. While it can provide a great support system, the app itself can't change those habits for you! It will just continue to send you updates and notifications (every time a goal isn't met by a certain time, your phone will buzz ya!) reminding you how you aren't living up to what you wanted. Which overtime can go either way. It may encourage you to change your ways or just thoroughly annoy you.
Get it?
Definitely! Upgrade? Not so much. With the upgrade you get unlimited habits (you only have 3 with the free version), more reports, graphs, tracking and daily alarms. Those are all great things but changing habits is hard and takes commitment and time, so the extra options feel a bit overwhelming. And for $4.99, the extra value just isn't there for most people.
** Update
2Morrow Mobile is lowering their price to $2.99 for a limited time in honor of our blog post review! It will only be good until Monday June 20th. If you are thinking about upgrading, now is the time!
Oh, and if you were looking for a reason to upgrade, take a look at these tweets: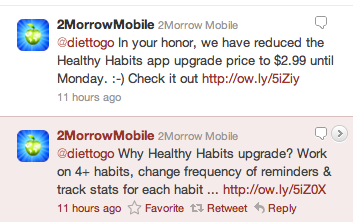 Author: Lillie Lancaster