Feature Ingredient of the Month - Watercress
Jun 12, 2011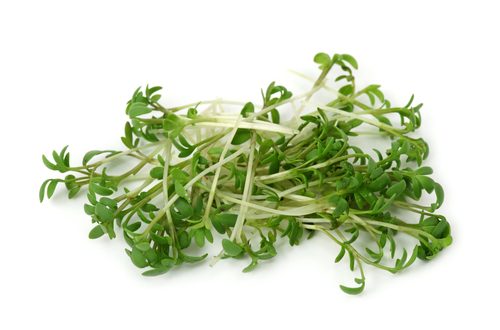 This unassuming leafy green vegetable is often overlooked. But it really shouldn't be. Easily qualifying as a superfood, watercress is rich in a multitude of vitamins, nutrients and contains powerful cancer fighting properties. Plus, a little watercress can add a nice zing to any recipe.
Choose it wisely:
When picking out watercress, look for a vibrant bunch with rounded, dark green leaves. Discard out anything discolored or yellow.
Grow it easily:
You can easily grow your own watercress from seed or by taking a cutting from a store-bought bunch. According to the National Gardening Association: "Giving the plant the moist conditions it needs will be any gardener's main challenge with watercress." Follow these directions to grow the plant at home.
Store it properly:
A water-loving plant, be sure to store the roots in water and cover with plastic wrap or use a wet paper towel and plastic bag. If stored properly, the watercress will keep up to 2 weeks.
Prep it quickly:
Like most vegetables, prepping watercress is easy. Simply cut the ends and wash thoroughly in cold water, then enjoy.
Use it often:
Mouthwateringly palatable, watercress's peppery leaves and crisp stems add both zest and texture to salads, sandwiches, pesto and soups.
Watercress Sauce Recipe:
This is a great sauce to use with grilled or pan-fried fish. You can use it all at once or freeze for later. Special equipment: food processor or blender.
Ingredients:
• 1 onion, peeled and quartered
• 1 tablespoon of olive oil
• 8 oz watercress, washed
• 1 cup vegetable stock
Place onion in the processor until completely chopped. Heat oil over medium heat and cook chopped onions for 10 minutes until softened. Process watercress until finely chopped, add to onion and cook for five more minutes. Stir in stock and simmer for 15 minutes. Serve immediately or cool and refrigerate. Can be frozen.
With this sauce:
This sauce is quite versatile and can be used in a variety of ways:
Quiche: Mix 2 beaten eggs, 2 ounces of cream and the watercress sauce. Fill a ready-made tart shell and bake.
Soup: Make a soup cooking 9 ounces of finely peeled and chopped potatoes in 15 ounces of stock. When done, stir in sauce and heat throughout.
Stuffing: Add 4 ounces breadcrumbs, 1 tablespoon of tomato paste, 2 ounces of Parmesan cheese, and the watercress sauce. Tastes great with lamb or pork.
Pesto: Make a pesto by adding toasted pine nuts, lemon zest and grated Parmesan cheese. Blend in processor until fully combined. Add to pasta.
Dressing: Add some mayo to make a dip or add more herbs and olive oil to drizzle over tomato, avocado and mozzarella.
Anyway you slice it, dice it, or munch it raw, watercress is a great addition to any meal!

Author: Sue Ridgeway