Healthy Fourth of July Menu Ideas
Jul 1, 2011
Fire up your grill and be ready to feed the masses. This healthy reciepe brings the summer heat with the jalapenos and cools you down with the watermelon: healthy, refreshing and just delicious.
Deconstructed Blue Cheese Jalapeno Turkey Burgers
DTG Tips: Keep your burgers healthy by choosing ground turkey or ground chicken.
Ingredients
1 pound of ground turkey (or chicken)
1 tablespoon Worcestershire sauce
1/2 cup crumbled blue cheese
2 jalapeno peppers, seeded and finely diced
one packet dry onion soup mix
salt and pepper to taste
4 slices of sourdough bread
loose organic mixed greens
olive oil
lemon
Preheat grill to medium-high heat. In a bowl, mix the meat, Worcestershire, diced pepper, onion mix, and salt and pepper. Shape into eight patties. Divide the blue cheese evenly on top of four patties and cover with remaining patties. Seal the sides for four burgers, each with a cheese pocket. Grill burgers on rack about 4 to 5 minutes per side, be sure not to poke the burgers or the cheese will ooze out!
Toss greens with olive oil and lemon juice. On a plate put one slice of sourdough bread and top with greens followed by the burger. Enjoy!
Mixed Bean Salad
DTG Tip: Beans are packed with protein and a great way to get your daily dose of fiber.
Ingredients
1 can French green beans, rinsed and drained
1 can wax beans, rinsed and drained
1 can kidney beans, rinsed and drained
1 can black beans, rinsed and drained
1 can garbanzo beans, rinsed and drained
1/3 cup red onion, chopped
1/4 cup orange juice
1/2 cup apple cider vinegar
dash of salt, sugar
Whisk together OJ, vinegar, salt and sugar. In a large bowl mix beans and dress with the oj mixture. Stir and let sit for 20 minutes. Serve.
Grilled Corn
Corn on the cob from the grill is always a crowd pleaser! Roll it in pesto and herbs or spritz with lemon juice instead of butter to keep it healthy.
Drinks & Desserts
You don't have to deny yourself this Fourth, just be smart about your choices. With so many different varieties of fruit in season, take advantage of nature's dessert. Chop up some watermelon and freeze. Mango, pineapple, or grapes are all delicious frozen.
For the kids: Watermelon Bowl
Grab a watermelon and cut it into cubes and toss with a bit of chopped mint and vanilla greek yogurt. Sprinkle with granola.
For the adults: Watermelon Margaritas
Cut a ripe watermelon into chunks (take out seeds, or use a seedless melon) and freeze.
In a blender: Use frozen watermelonas ice, 3 mint leaves, juice of one lemon, juice of two limes, 6 ounces tequila, one shot of Grand Marnier. Blend ingredients, garnish with mint. Drink up.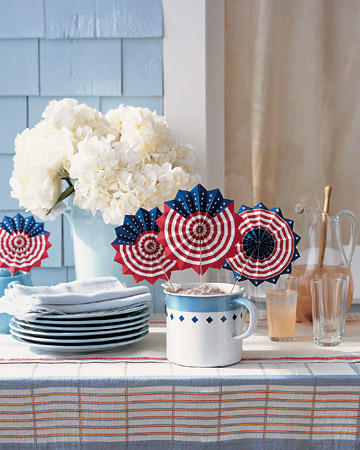 Author: Lillie Lancaster