Top 10 Healthy Christmas Party Finger Foods
Dec 11, 2013
Unsure what to bring to your next Christmas party, holiday Pot-luck or festive soiree?

Not to worry. We've got the list of the Top 10 Healthy Christmas Party Finger Foods. Recipes included. ☺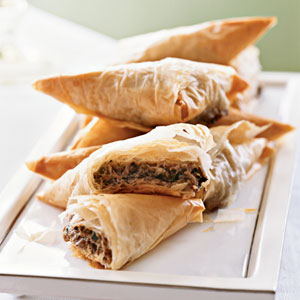 It's easy to look like a 5-star chef when you plan ahead. That's all you need to do to prep these little darlings for your next holiday get-together. Elegant, rich and healthy, you can prepare these weeks in advance, freeze them and then toss them in the oven 20 minutes before you head out the door.

Recipe:
What You'll Need: (for 48 triangles)
3/4 cup dried porcini mushrooms (about 3/4 ounce)
1 pound button mushrooms
1 large onion, cut into 1-inch pieces (about 8 ounces)
2 tablespoons olive oil
1 teaspoon dried oregano
3/4 teaspoon salt
1/2 teaspoon freshly ground black pepper
1/4 teaspoon freshly grated nutmeg
6 ounces 1/3-less-fat cream cheese
1/2 cup finely chopped flat-leaf parsley
24 (18 x 14-inch) sheets frozen phyllo dough, thawed
Olive oil-flavored cooking spray

How to Make It:
Cover porcini mushrooms with boiling water in a bowl. Let stand 1 hour. Drain well; chop.

Place half of button mushrooms in a food processor; pulse 8 times or until finely chopped. Remove from processor. Repeat procedure with remaining button mushrooms. Add onion to processor; pulse 8 times or until finely chopped.

Heat oil in a large nonstick skillet over medium heat. Add onion; sauté 5 minutes. Add button mushrooms; cook until mushrooms are tender and liquid evaporates (about 10 minutes). Stir in porcini mushrooms, oregano, salt, pepper, and nutmeg; cook for 2 minutes. Remove from heat. Add cheese; stir until cheese melts. Stir in parsley.

Preheat oven to 375°.

Place 1 phyllo sheet on a large cutting board or work surface (cover remaining phyllo to prevent drying). Cut sheet in half lengthwise; lightly coat with cooking spray. Fold each phyllo piece in half lengthwise to form a (3 1/2-inch-wide) strip. Spoon a level tablespoon of mushroom mixture onto 1 short end of each strip, leaving a 1-inch border. Fold 1 corner of edge with 1-inch border over mixture, forming a triangle; continue folding back and forth into a triangle to end of strip. Repeat procedure with remaining phyllo, cooking spray, and mushroom mixture. Place triangles, seam side down, on baking sheets coated with cooking spray. Lightly coat tops with cooking spray.

Bake at 375° for 20 minutes or until golden. Serve warm.
Nutrition: Calories: 49; Fat: 2g; Protein: 1.5g; Fiber: 0.5g; Carbs: 6.2g; Sodium: 97mg

(Courtesy: Cooking Light)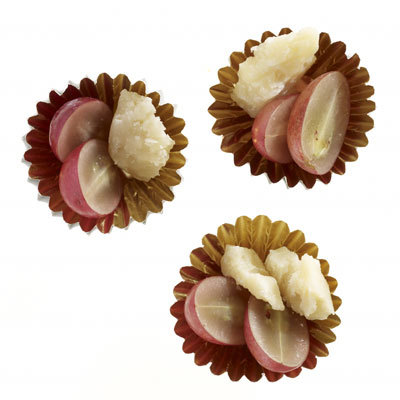 Okay, so you're not the oven mitts-and-apron type, or maybe you literally just don't have the time. Besides being wickedly cute, these mini cheese mixes are super low-calorie and even more creative.
What You'll Need: (for approximately 24 servings)
1-2 pounds Grapes (red or green)
Petit-Four Cups (Kinda like cupcake foils – find them in the baking aisle)
12-16 ounces Reggiano Parmigiano cheese
How To Make It:
Halve the grapes.

Place evenly into the petit-four cups.

Add a small chunk of the Reggiano Parmigiano cheese.
Nutrition: Calories: 26; Fat: 1g; Protein: 0.2g; Fiber: 0.5g; Carbs: 4.6g; Sodium: 22mg

(Courtesy: Health Magazine)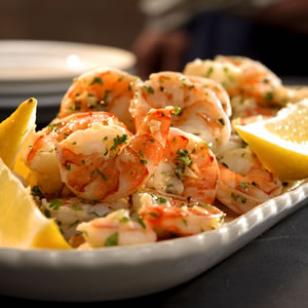 Want to impress with more than your cute new dress and matching purse? Then bring along a taste of elegance with these lemon-garlic marinated shrimp. And please, don't stress. These may look like you'll be in the kitchen for way more time than you'd care to count, but they're actually pretty easy to make.
What You'll Need: (for 12 servings)
3 tablespoons minced garlic
2 tablespoons extra-virgin olive oil
1/4 cup lemon juice
1/4 cup minced fresh parsley
1/2 teaspoon kosher salt
1/2 teaspoon pepper
1 1/4 pounds cooked shrimp
How to Make It:
Place garlic and oil in a small skillet and cook over medium heat until fragrant, about 1 minute.

Add lemon juice, parsley, salt and pepper.

Toss with shrimp in a large bowl.

Chill until ready to serve.
Nutrition: Calories: 73; Fat: 3g; Protein: 10g; Fiber: 0g; Carbs: 1g; Sodium: 154mg

(Courtesy: Eating Well)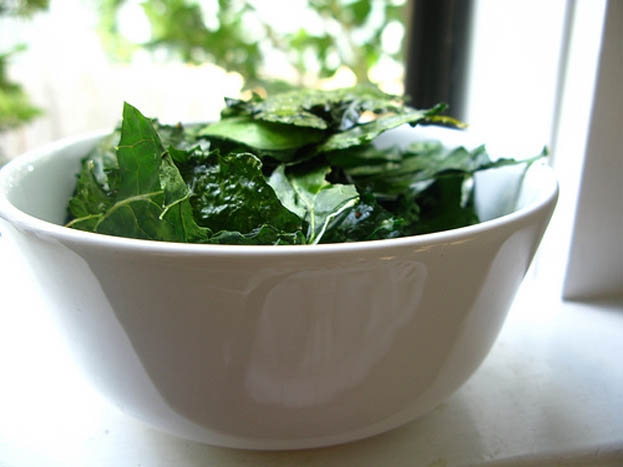 There are quite a few reasons kale is all the rage. It's packed with tons of nutrients (like iron, antioxidants, and vitamins K and A) that can help you reduce your risk of breast cancer, lose weight and even strengthen your heart. You can make it the "nom-nom" at your next holiday soiree by baking it into chips and serving it with a simple hummus recipe.
What You'll Need: (for 6 servings)
1 10-ounce bunch lacinato kale
2 tablespoons extra-virgin olive oil
Salt (to taste)
How to Make It:
Preheat oven to 375°F.

Pull off the rib from each kale leaf. Wash the kale and spin in a salad spinner. Some water droplets will remain in the curls of the leaves; pat dry with paper towels and let kale air dry for an hour or so. The kale leaves should be as dry as possible.

Spread the leaves on two rimmed baking sheets. Drizzle each sheet with 1 tablespoon oil, and toss leaves to coat with the oil. Arrange the leaves so they overlap as little as possible.

Bake, 1 sheet at a time, just until the kale becomes crisp, 8–10 minutes. Do not overcook the kale or it could become bitter. Sprinkle the kale with salt. Transfer the chips to a platter or a deep bowl (they are less likely to break on a platter) and serve.
Nutrition:
Calories: 30-50; Fat: 1g; Protein: 3g; Fiber: 2g; Carbs: 10g; Sodium: 43mg

(Courtesy: iVillage)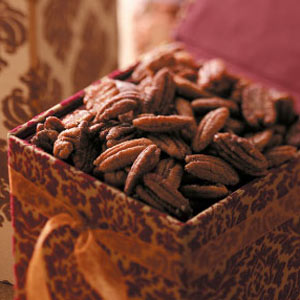 No holiday party is complete without some spiced nuts. This year, bring them the healthiest you can find with this warming spiced pecans recipe. Nuts are packed with lean protein, a healthy way to get in the right kinds of fats to feel fuller and combat a whole host of health problems you don't want to have. These are pretty darn simple to make, and they taste incredible.
What You'll Need: (for 20 servings)
2 tablespoons sugar
1 teaspoon pumpkin pie spice
1/2 teaspoon salt
1/2 teaspoon ground ginger
2 tablespoons water
2 tablespoons honey
2 teaspoons canola oil
1-1/4 pounds Pecan Halves (about 5 cups)
How to Make It:
Preheat oven to 325°.

Combine the sugar, pie spice, salt and ginger; set aside. In a Dutch oven, bring the water, honey and oil to a boil. Add pecans; cook and stir until all of the liquid is evaporated, about 1 minute. Immediately sprinkle with reserved sugar mixture; toss to coat.

Transfer to an ungreased 15-in. x 10-in. x 1-in. baking sheet. Bake for 15-20 minutes or until browned, stirring twice. Cool on a wire rack. Store in an airtight container. Yield: 5 cups.
Nutrition: (in ¼ cup) Calories: 202; Fat: 20g; Protein: 2g; Fiber: 3g; Carbs: 7g; Sodium: 59mg

(Courtesy: Taste of Home)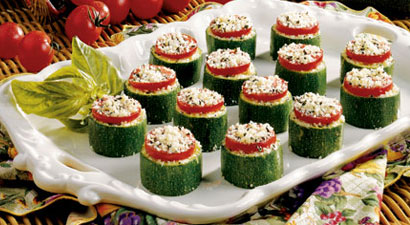 They're red, green and white for a reason: they make the perfect pal at your next holiday shindig. In less than 30 minutes, you can make Christmas holiday and delicious appetizer go together as well as black leggings and knee-high boots.
What You'll Need: (for 20 servings)
5 medium zucchini (about 6 inches long)
4 ounces blue cheese, crumbled
3 tablespoons grated Parmesan cheese
1 teaspoon dried basil
1/8 teaspoon pepper
1 pint cherry tomatoes, thinly sliced
How to Make It:
Preheat oven to 400°.

Cut zucchini into 3/4-inch slices. Using a melon baller or small spoon, scoop out the insides and discard, leaving the bottom intact. Place zucchini on an ungreased baking sheet; spoon 1/2teaspoon crumbled blue cheese into each.

Combine the Parmesan cheese, basil, and pepper; sprinkle half over blue cheese. Top each with a tomato slice; sprinkle with the remaining Parmesan mixture. Bake at 400°F until cheese is melted, 5-7 minutes. Serve warm. Makes 35 appetizers.
Nutrition: Calories: 19; Fat: 1g; Protein: 1g; Fiber: 0g; Carbs: 1g; Sodium: 58mg

(Courtesy: Reader's Digest)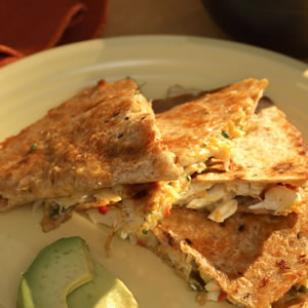 Your guests are hardly going to know they're healthy. Seriously. These are that good. When you set these babies down, people are likely going to ask you when you had time to go to Chili's to pick up several orders of their Bacon Ranch Chicken Quesadillas (only these don't have 1,740 calories and 132 grams of fat).

Recipe:
What You'll Need: (for 8 servings)
1 cup shredded reduced-fat Cheddar cheese
2 ounces reduced-fat cream cheese, softened
4 scallions, chopped
1/2 medium red bell pepper, finely chopped
1/3 cup chopped fresh cilantro
2 tablespoons chopped pickled jalapenos, (optional)
1 teaspoon freshly grated orange zest
1 tablespoon orange juice
8 ounces pasteurized crabmeat, drained if necessary
4 8-inch whole-wheat tortillas
2 teaspoons canola oil, divided
How to Make It:
Combine Cheddar, cream cheese, scallions, bell pepper, cilantro, jalapenos (if using), orange zest and juice in a medium bowl. Gently stir in crab. Lay tortillas out on a work surface. Spread one-fourth of the filling on half of each tortilla. Fold tortillas in half, pressing gently to flatten.

Heat 1 teaspoon oil in a large nonstick skillet over medium heat. Place 2 quesadillas in the pan and cook, turning once, until golden on both sides, 3 to 4 minutes total. Transfer to a cutting board and tent with foil to keep warm. Repeat with the remaining 1 teaspoon oil and quesadillas. Cut each quesadilla into 4 wedges.
Nutrition:
Calories: 303; Fat: 11g; Protein: 24g; Fiber: 3g; Carbs: 26g; Sodium: 625mg

(Courtesy: Eating Well)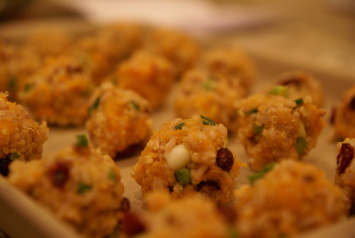 Sweet potato and quinoa patties add a colorful touch to your next holiday banquet. People will mistake them for comfort food without realizing just how healthy they are. Plop these little balls of joy out on the table, and the Elf on the Shelf ain't got nothing on you.
What You'll Need: (for 10-20 servings)
2 medium-sized sweet potatoes, peeled, cut into 1 inch cubes
1 cup quinoa, cooked according to package instructions
1 cup wild rice, cooked according to package instructions
1/2 cup green onions, sliced
1/2 cup dried cranberries, chopped
1 tablespoon dried sage
1 teaspoon sea salt
1/2 teaspoon black pepper
How to Make It:
Preheat oven to 350 degrees.

Cook quinoa and wild rice according to package instructions. Set each aside to cool.

Steam sweet potato chunks for 20-25 minutes. Puree with blender, mixer or food processor. Set aside to cool.

Combine sweet potatoes, cooked quinoa, cooked rice, green onions, cranberries and seasonings.

Form the dough into balls.

Arrange the patties on lightly greased parchment paper or stoneware and bake for 20 minutes, or until patties are lightly brown and crisp on the outside.

Serve warm or at room temperature. Or let them chill in the fridge and serve over salad.
Nutrition: Calories: 230; Fat: 2.5g; Protein: 10g; Fiber: 8g; Carbs: 44g; Sodium: 360mg

(Courtesy: Longevity Nutritionist)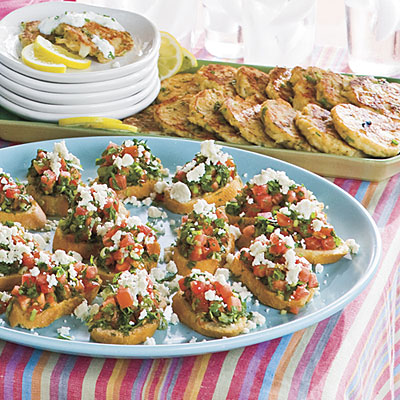 Crostini is a finger-food that often makes its way onto the holiday party table, and for good reason. It's classy, people love it, and it really makes a holiday occasion look like a holiday occasion. The problem is that traditional garlic crostini gets a pretty low nutritional rating (D+… * cough-cough*), and you don't get a lot of bang for your calorie-buck. Instead, serve up the healthier version with this fresh herb-tomato crostini recipe.

Recipe:
What You'll Need: (for 6 servings)
1/4 cup olive oil
2 garlic cloves, pressed
1 (8.5-oz.) French bread baguette, cut into 1/4-inch-thick slices
3 tablespoons fresh lemon juice
2 tablespoons olive oil
1/4 teaspoon salt
1/8 teaspoon pepper
1 large tomato, finely chopped $
3/4 cup finely chopped green onions
1/2 cup chopped fresh parsley
1 tablespoon chopped fresh mint
1/3 cup crumbled feta cheese
How to Make It:
Preheat oven to 350°. Stir together olive oil and garlic; brush on 1 side of each bread slice. Place bread slices, garlic sides up, on a baking sheet. Bake 10 to 12 minutes or until lightly toasted.

Whisk together lemon juice and next 3 ingredients in a large bowl. Add tomato and next 3 ingredients; gently toss to coat.

Top each bread slice with tomato mixture (about 2 rounded teaspoonfuls each). Sprinkle with cheese.
Nutrition: Calories: 93; Fat: 6.1g; Protein: 2.1g; Fiber: 2.4g; Carbs: 8.7g; Sodium: 243mg

(Courtesy: Southern Living)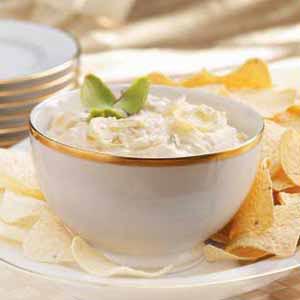 What kind of list would this be without at least one dip? Unfortunately, most dips are often packed with excess sugar, fat and sodium. So try this one on for size instead: and you'll leave your guests feeling super satisfied too.
What You'll Need: (for 20 servings)
2 cans (14 ounces each) water-packed artichoke hearts, rinsed, drained and coarsely chopped
1 package (8 ounces) Less Fat Cream Cheese Spread, cubed
3/4 cup (6 ounces) plain yogurt
1 cup (4 ounces) shredded part-skim mozzarella cheese
1 cup reduced-fat ricotta cheese
3/4 cup shredded Parmesan cheese, divided
1/2 cup shredded reduced-fat Swiss cheese
1/4 cup reduced-fat mayonnaise
2 tablespoons lemon juice
1 tablespoon chopped seeded jalapeno pepper
1 teaspoon garlic powder
1 teaspoon seasoned salt
How to Make It:
In a 3-qt. slow cooker, combine the artichokes, cream cheese, yogurt, mozzarella cheese, ricotta cheese, 1/2 cup Parmesan cheese, Swiss cheese, mayonnaise, lemon juice, jalapeno, garlic powder and seasoned salt. Cover and cook on low for 1 hour or until heated through.

Sprinkle with remaining Parmesan cheese. Serve with tortilla chips, whole wheat crackers or vegetables.
Nutrition: Calories: 104; Fat: 6g; Protein: 7g; Fiber: 0.4g; Carbs: 5g; Sodium: 348mg

(Courtesy: Taste of Home)
------------------------------------------------------------------------------------
Author: Caitlin Hendee
Diet-to-Go Community Manager

Caitlin is the Diet-to-Go community manager and an avid runner. She is passionate about engaging with others online and maintaining a healthy, active lifestyle. She believes moderation is key, and people will have the most weight loss success if they engage in common-sense healthy eating and fitness.