8 Delicious, Mediterranean-Friendly Snack Recipes
Mar 21, 2022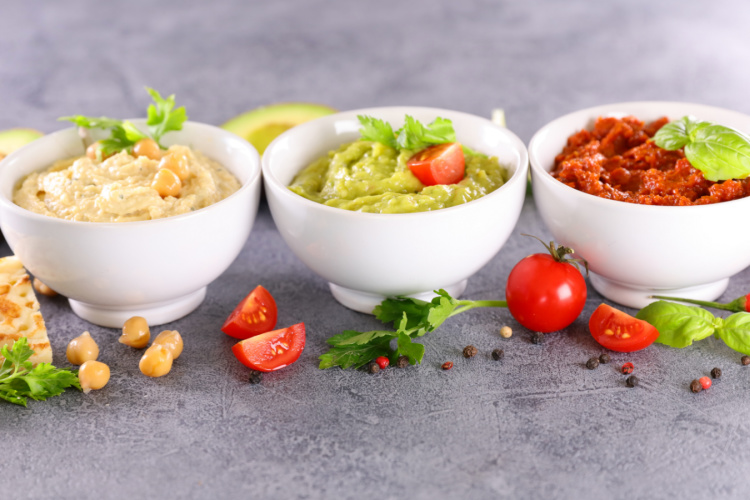 Wholesome, healthy foods are the foundation of the Mediterranean Diet. Meals are often cooked with olive oil and feature staples like fish, whole grains and potatoes.

The Mediterranean Diet is popular for a reason — studies show it can lead to weight loss and combat health issues like heart disease, stroke, Type 2 diabetes, and premature death.

It's pretty straightforward to eat Mediterranean-style lunches and dinners, but what about when it comes to healthy snacks? That's why we rounded up eight Mediterranean Diet-friendly snack recipes. You can whip up these up ahead of time and have on hand to stay in line with your healthy diet but still have something to get you through those hungry mid-afternoon moments.

Enjoy!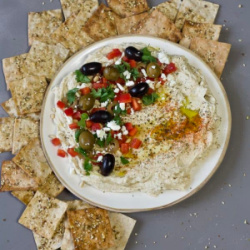 1) Loaded Mediterranean Hummus

Hummus is perhaps the most obvious Mediterranean-friendly snack, but why not elevate it to the next level? All you need for this easy-to-make recipe is store-bought hummus, feta cheese, olives, bell peppers and herbs. Mix them together and pair with pita chips or carrots for a simple (but filling!) snack.

Recipe courtesy The Domestic Dietitian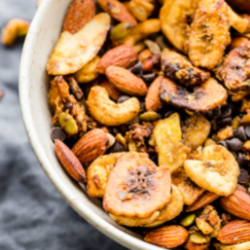 2) Crock Pot Chunky Monkey Paleo Trail Mix

If you're looking for crunchy, salty-sweet handful of pure deliciousness, this recipe is for you. Mixed nuts, coconut flakes and sugar and butter are roasted in a Crock-Pot and then mixed with banana chips and dark chocolate chips for a trail mix you can bag up and have at the ready no matter where your week takes you.

Recipe courtesy Cotter Crunch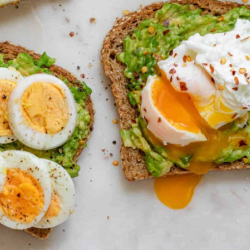 3) Avocado and Egg Toast

You can't beat the healthy fats found in avocado, and mashing it up makes for the perfect butter substitute to top a slice of whole-wheat toast. Then, add an egg any way you like it — such as poached, fried, scrambled or boiled — for a boost of protein that will keep you extra satisfied and energetic the rest of the day.

Recipe courtesy Feel Good Foodie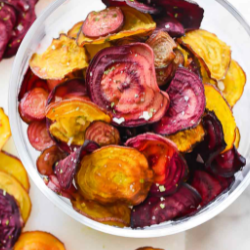 4) Baked Beet Chips

Giving up potato chips can be tough for some of us, but thankfully, the Mediterranean Diet offers the perfect substitute with these crunchy, delicious Baked Beet Chips. Making them doesn't require too much skill and basically entails slicing fresh beets very thinly, coating the baking sheet with a tiny bit of olive oil and cooking them 400 degrees on the bottom rack will give you the best crispy texture. Top them with sea salt or flavored salt, and you'll likely wonder why you ever felt you needed potato chips in the first place!

Recipe courtesy Foodie Crush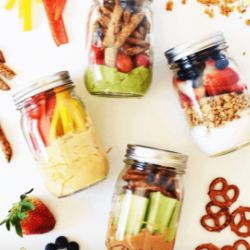 5) Grab-N-Go Snack Jars

The key to staying on track with any diet is preparation. That's what makes these convenient Grab-N-Go Snack Jars just the thing for avoiding munching on something that derails your diet instead. The recipe includes four different versions — some made with primarily fruit, others made with vegetables — that you can enjoy anytime, guilt-free.

Recipe courtesy The Butter Half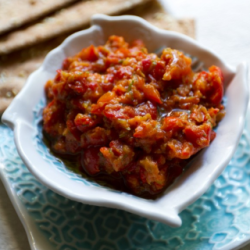 6) Avjar Roasted Pepper & Eggplant Spread

Versatility is the name of the game with this Macedonia-inspired recipe that you can make ahead of time and have ready to roll for a tasty, unique snack. You can spread the unique concoction on pita bread or dip vegetables in it for an elevated, creative 2 p.m. snack that will leave you feeling satisfied right up until your late-evening dinner.

Recipe courtesy Salt and Wind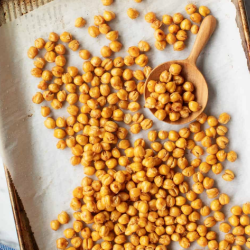 7) Crispy Roasted Chickpeas

If you're in love with crispy, then you're going to go crazy for these Crispy Roasted Chickpeas. They're packed with protein, and roasting them is a breeze. Then, pack them in an airtight container for a healthy vegan snack you can munch on all week long!

Recipe courtesy Love and Lemons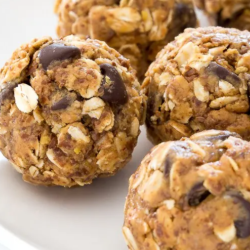 8) Peanut Butter Energy Bites

All you need is a few simple ingredients for these energy-packed Peanut Butter Bites. They're made with flax seeds and whole grain oats, both Mediterranean Diet staples, plus peanut butter, honey and chocolate chips for a protein-filled bite of deliciousness that could easily pass as dessert. They're sure to become a guaranteed go-to for all your snacking needs.

Recipe courtesy Chef Savvy