Compare
Us
With so many diet meal plans out there, it can be difficult to figure out which plan will work best for you. Take a look and see why Diet-to-Go is consistently ranked a top pick for weight loss, affordability, ease of use, and overall customer satisfaction.
Cooking at home
Cost per 1,000 calories
$18.81
Cost includes everything
including sides and condiments
$18.16*
Cost includes ingredients only for
healthy low-calorie dense foods
Portion Sizes

Perfectly

portioned meals
1,200 & 1,600 Calories
per day options
Portion size varies
Measuring portion sizes can be
complex and time consuming
Preparation time
1-2 minutes
per meal
No shopping, no clean up
9-16 hours per week


(According to the USDA)


Not including shopping or clean up
Eating Out
Cost per meal
$7.52
$10-$15
Portion sizes

Perfectly

portioned meals
1,200 & 1,600 Calories
per day options
Very large portions
Average restaurant meals
contain 800-1,500 calories
(According to the ADA)
Nutrition

Nutritionally

balanced
Perfect combination of carbs,
protein and fat
Unbalanced
96% of restaurant meals exceed
USDA limits for calories, sodium,
fat & saturated fat (USA Today)
* According to University of Washington Study in August 2011
Compare Us With
Our Competitors
Diet-to-Go offers a clear advantage over competitors in price, convenience, freshness and taste.
Comparisons based on one week,
no commitment purchase.
FreshDiet
BistroMD
eDiets
Average Cost Per Meal*
$7.52
$20
$8.00
$9.52
Average Cost per Day
$22.57
$59.99
$22.85
$28.56
Full Week Price
$157.99
$419.93
$159.95
$199.95
Cancellation Fee
NO

N/A

NO
$30
Available Weekly, No Commitment
100% Satisfaction Guarantee
Offering Three Complete Menus

Traditional/Vegetarian/Low-Carb

Fresh Non-Frozen Delivery
Food Prepared Fresh in House**

No Food Preparation Outsourcing

Includes All Side Items

Fruit/Sides/Condiments
* Average price on March 16, 2012.
** We make our own food at our quality-controlled USDA facility. No outsourcing.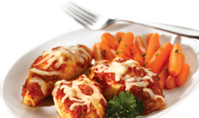 Proven
Weight Loss *
Diet-to-Go has helped thousands lose weight safely and naturally. See these and other great Diet-to-Go success stories here.
* Individual results may vary. Customers that stick to our calorie
restricted plans have reported weight loss of up tp 2lbs per week.