Setting Employees Up for Success
Life is busy. Many of us struggle to balance the needs of work and family.
As a result, our own health is ignored. We forego exercise in order to "get stuff
done" and end up eating foods for their convenience, not their nutritional value or
even taste.

Over time, poor eating habits become the norm and thus starts the domino effect of poor health. As a result, people miss work and productivity diminishes. In fact, according to the Gallup-Healthways Well-Being Index, full-time workers in the U.S with chronic health conditions miss an estimated 450 million days of work each year, resulting in an estimated cost of more than $153 billion in lost productivity annually.1
You can help reverse this trend. By giving your employees the opportunity and the resources to take control of their own health, they can make better choices. The more tools your employees have, the more likely they are to succeed. Diet-to-Go is a proven, effective and powerful tool that can help your employees lead healthier and more productive lives.
The Diet-to-Go Corporate Wellness Program Includes: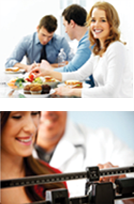 Healthy, low-fat meals at an exclusive, discounted price for
your employee and family members
Complimentary private tastings for the office with
personalized one-on-one consultations
Exclusive member delivery options
Company Health Fair support
Lunch 'n Learn events
Marketing Materials
Email Newsletter
Company-sponsored Weight Loss Challenge support
New hire packet materials and benefits page intranet link
The major advantage for the employer is that Diet-to-Go provides these benefits
at no cost to the company. The benefit for the employee is the opportunity to
conveniently get portion-controlled, fresh and healthy meals that can have a
positive impact on their personal lives and productivity. Together, we'll figure
out a program that will work best for your company and your employees.
1
http://www.gallup.com/poll/150026/unhealthy-workers-absenteeism-costs-153-billion.aspx