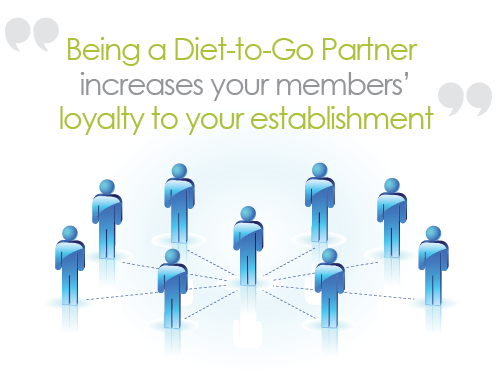 Diet-to-Go's mission is to make healthy eating easy and accessible for everyone. We want to be able to make our incredibly delicious, nutritionally balanced meals available everywhere so that we can help people establish a common sense approach to healthy eating, one that they can sustain so that making smart food choices becomes a way of life. In collaboration with our Partners, we are able to do just that.
Why Diet-to-Go Makes Sense
We understand that in this crazy busy world, most people just don't have the time or energy to plan for, shop and cook healthy meals. But with Diet-to-Go, we do all the legwork and make it easy: we've done the research, the shopping and the preparing. Our team of dietitians and chefs has worked tirelessly to create a complete system that is simple, effective and delicious. Customers can choose from three different menu plans and enjoy tasty, nutritionally balanced meals ready to eat when they are. No difficult calorie counting or tedious logs books, just good healthy food.
Why Being a Diet-to-Go Partner Makes Sense
Through our Partner in Health Program, fitness facilities, health clubs and other similar businesses act as distribution centers for Diet-to-Go meals. By providing this service, these facilities not only benefit themselves but their members as well. Having healthy, ready-to-go meals easily accessible where they work out makes it that much easier to eat healthy: no extra trips or inconvenience. And because their food is at the gym, they are more likely to come and workout. Being a Diet-to-Go Partner increases your members' loyalty to your establishment.

In addition to increasing the "stickiness" of your business, as a Diet-to-Go Partner in Health you also benefit through our financial rewards.
We offer:
Payments to Distributors
Sales Commissions
Marketing Support
Inclusion in our Most Valuable Partner Program
If you own or work at a health club, fitness facility or related business located in the DC/Baltimore, Philadelphia or San Francisco Bay metro area, contact us about the Diet-to-Go Partner in Health Program.

Together we can make healthy eating accessible for everyone.