Mobile Monday: Eat This, Not That! the Game Mobile App Review
Jul 18, 2011
Eat This, Not That! the Game
Cost: Free (with paid add-on options)
Category: Healthcare & Fitness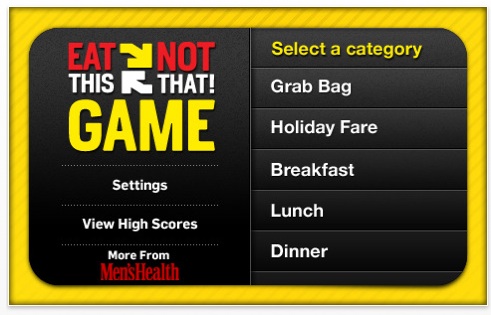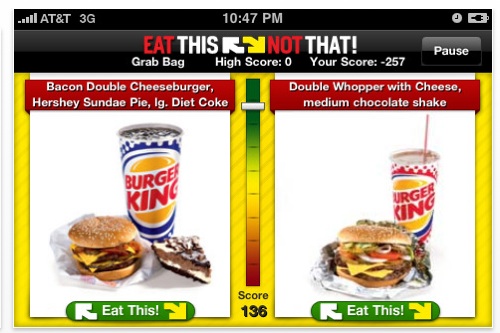 Inspired by the bestselling book, the Eat This, Not That! the Game mobile app is designed to make the process of making smart food choices fun and interactive. Just like the book, the app compares two similar meals and details the nutrition information of each, highlighting the healthier option. With the app, it's up to you to choose which food is the healthier option. In theory it's a great idea: helping to train your brain to make smart choices quickly and making healthy eating game-like. But in execution, the app is lacking.
How it works:
The app allows you to play the game in two different modes:
Speed Mode is the more "competitive" mode. It's about you vs. the clock. You have a set amount of time to make your food choice. You earn points for correct answers and the faster you give them, the more points you earn. The longer you wait to make your decision, your point-earning potential goes down and you are given specific facts about the foods. For example after five seconds your total possible points to earn goes from 150 to 130 and you are given the total fat grams of each food item. After five more seconds you lose more potential point earnings and then the saturated fat grams will appear; five more seconds even fewer point potential and the fiber content pops up, etc. Points are deducted for any wrong answers and bonuses awarded for consecutive correct responses.
Casual Mode is just what it says, a more casual way to play. You still earn points in the same manner. However, here is no penalty for wrong answers, no bonus points for correct answers and after each question the answer is revealed in detail.
There are several add on/upgrade options ($.99 each)
Fast Food Edition
Drinks Edition
Supermarket Edition
Kids Edition
Why we didn't love it:
It's really not that fun. After you've gone through a few meal options the thrill is gone. And more than anything the pop up ads are infuriating! They are ever present often blocking the buttons so you can't even play the game. Unfortunately the pay versions are just as bogged down with pop up ads.
Recommendation:
It's not painful or anything, and if you're bored or stuck in the car for a while you might want to download the free version. But chances are the app won't stay on your device for long.

Author: Sue Ridgeway