Mobile Monday: Fitter Fitness Calculator
Jul 24, 2011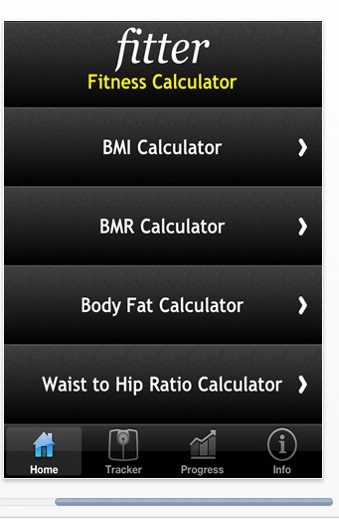 Cost: Free (upgrade $.99)
Category: Healthcare & Fitness
Knowledge is power; especially when it comes to your health. And having that knowledge right in the palm of your hand is even more powerful! The Fitter Fitness Calculator does that for you. This free, multi-faceted app allows you to track your weight, BMI, BMR, Body Fat %, Daily Calorie Needs and Waist to Hip Ratio with just a few clicks. You can track progress visually and even share your results via Twitter and Facebook.
Details on the tools
Weight Tracker
Pro:
This tool allows you to easily track your weight and weight goals. You can enter your current weight, goal weight and rate of desired weight loss (no faster than 2lbs per week). You can also graph your weight loss progress with daily, weekly and monthly views.
Con:
Once you enter your weight goal it doesn't give you a daily calorie requirement to achieve said goal; it only tells you when you'll achieve your goal (based on how much you said you wanted to lose per week). There is no other weight loss assistance provide (menus, calories guides, etc.).
Body Mass Index (BMI) Calculator
Pro:
With just a couple of clicks you can instantly learn what BMI is, what your specific BMI number is, as well as an explanation of why this number is important to your overall health. The results are visually powerful with colors and graphs indicating where your BMI lands (under weight, normal, over weight, obese). You can also track your BMI graphically with daily, weekly and monthly views.
Con:
Other than stating that a healthy weight and BMI are directly related, there are no hints, tips or tools on how to lower one's BMI.
Basal Metabolic Rate (BMR) Calculator
Pro:
Just by entering your height, weight, age and gender you instantly get your Basal Metabolic Rate: the number of calories your body needs just to stay alive. There's also a definition of BMR and an explanation of why knowing this number is important. Once you get your BMR you can also determine your overall daily calorie needs by entering your activity level. And similar to the other tools you can track your BMR and total calorie needs graphically with daily, weekly and monthly views.
Con:
While it does tell you your overall calorie needs based on activity level, there is no definition or descriptions of the activity levels so its hard to know if you are "light active" or "extra active" or what.
Body Fat Percentage Calculator
Pro:
By filling out your weight, measurements of your waist, hips, wrist and forearm as well as gender, you are given your body fat percentage. It provides a long explanation of what body fat percentage means and why this number is important. The results are presented in a nice visual manner. And like the other tools, you can track your Body Fat Percentage daily, weekly and monthly.
Con:
While it's pretty intuitive that to lower your percentage of body fat, one needs to lose fat and build muscle. But there is no mention of that and no tips or hints on how to achieve an acceptable body fat percentage.
Waist to Hip Ratio Calculator
Pro:
Simply enter your waist circumference, hip circumference, gender and your ratio appears. There's an explanation of waist to hip ratio and why this measurement is important. Again the visual display of the results is easy to read and understand. There is the daily, weekly and monthly progress graph also.
Con:
Again, no direction on how to lower your ratio if falls in the high risk category.
Overall
Pro:
It's a fun, easy to use and very informative app. It provides useful information and helps to reinforce that being healthy isn't just about being thin: being healthy is a comprehensive equation. As long as you have a measuring tape available and a few minutes you can learn a lot about your health.
Con:
As mentioned above, there isn't a lot of direction or help provided. The user needs to determine how to improve their health themselves. Also, the free version does have banner ads. They are not very intrusive and if they really bother you then you can upgrade to the $.99 version, Fitter+.
Recommendation
Download it!

Author: Sue Ridgeway