Quick, Healthy Breakfasts
Sep 14, 2011
Quick, Healthy Breakfast: Good Nutrition, even when you don't have time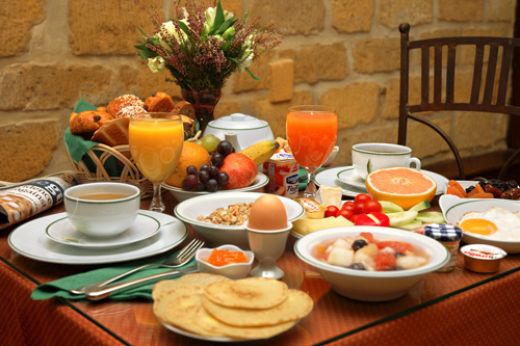 You know that eating a healthy breakfast is important. You've probably heard about all the studies that have shown that eating a nutritious breakfast will help you lose weight. But knowing what you're supposed to do and what you actually do, are two different things, especially when you are short on time. Preparing and eating a quick, healthy breakfast is not always feasible; or so it may seem.
It seems inevitable, no matter what time you set your alarm for, your mornings are rushed. Well, maybe not always but definitely on occasion. And on those days the reality of sitting down for a nice healthy breakfast seems quite remote. Ideally you'd have a food delivery company that would provide a perfectly proportioned, delicious, healthy breakfast every day. But for those times when you don't have your Diet-to-Go, you can still have a quick, healthy breakfast. You can still have good nutrition even when you don't have time.
As you're planning your meal, keep in mind that while breakfast is where you want to calorie load for optimum weight loss, you don't want to go crazy. A 900-calorie meal, no matter how early in the day it's eaten, is not the best course of action. And there have been some studies that have shown that when it comes to breakfast, a big breakfast doesn't always equate with big weight loss. As always, moderation is key.
You want your breakfast to include a good mix of nutrients including low fat protein, complex carbohydrates, fruit and/or vegetables, fiber and a small amount of fat. This combination packs a lot of health benefits that will keep you feeling satisfied and going for hours. The goal: pack as much nutrition as possible in 500 calories or fewer.
Some quick, healthy breakfast ideas include:
Crunchy banana: Roll a peeled banana in some crushed whole grain cold cereal: instant breakfast to go. And if you want to add a little protein in there, first coat the banana with peanut butter.
Breakfast tortilla: Spread some peanut butter, almond butter or hummus on a whole-wheat tortilla and top with chopped strawberries. Roll it up and go.
Smoothies: Throw some berries, ice, low-fat milk or yogurt, blend. Pour into a nice travel mug and you can drink your breakfast en route to work.
Fruit and yogurt: Add some berries into a container of low-fat yogurt and you've got fruit, low-fat protein and fiber in an instant.
Muffins: No, not those giant calorie and fat-laden ones you find at your local coffee shop. We're talking healthy, nutrient-filled, low calorie muffins. You can make a couple dozen in advance, freeze them and just stick them in the microwave for 20-30 second when you're ready to eat. Some good recipes include:
In an ideal world we would all have time to eat a nice healthy breakfast, leisurely, before we start our day. Unfortunately we don't live in that world. We live in a crazy busy, time starved world. But fortunately with Diet-to-Go you can be assured of eating healthy no matter how time crunched you are. And with just a little planning and creativity, you can still eat healthy even when you don't have a Diet-to-Go meal.

Author: Sue Ridgeway